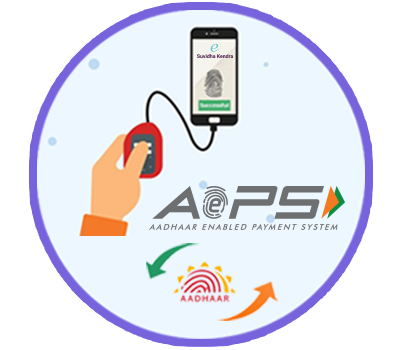 About AePS
Cardless Secure Cash Withdrawal
Aadhaar-enabled Payment System (Aeps) is a safe, secure payment method provided by the NPCI that allows customers to withdraw cash and avail of other basic banking benefits such as balance inquiry.
AePS is a bank-led model which allows online interoperable financial inclusion transactions at PoS (MicroATM) through the Business correspondent of any bank using the Aadhaar authentication.AePS allows you to do six types of transactions.
The only inputs required for a customer to do a transaction under this scenario are:-

Bank Name
Aadhaar Number
Fingerprint captured during enrollment.
Finkeda is AePS service provider company with a robust platform for the Aadhaar Payment System, which allows online interoperable financial transactions at PoS (Point of Sale). FINKEDA AePS Cash Withdrawal is often paired with an Aadhaar biometric device which is used to authenticate the transaction.
Aadhaar Fingerprint Scanner and Aadhar Iris Scanner are most used to authenticate the biometric information of a person.

Banking Services Offered by AePS
Cash Deposit
Cash Withdrawal
Balance Enquiry
Mini Statement
Authentication
Aadhaar to Aadhaar Fund Transfer



Other Services offered by AePS
eKYC

Best Finger Detection
Tokenization
Aadhaar Seeding Status
How to use AEPS Service (Video Tutorial)
Download Our App!
Download our pocket friendly Mobile App for all essential services